Sunmi finally releasing her album title Warning, the album include the previous hits such as Gashina, and Heroine, which for both songs she collaborated with Teddy producer from YG Entertainment. Her song Siren also recieving Perfect All Kill in South Korea showing that she got the power, and public support for her music. I really like that she's being this cool, chic girl, instead of the cute looking girl that most of the Korean singers are looking for.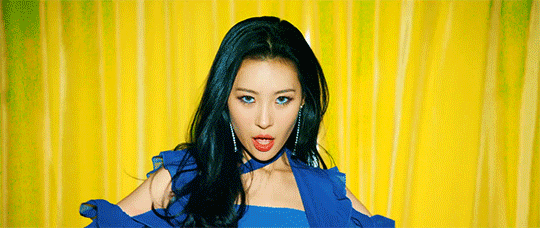 I really love Siren, especially the part "Get a way out from my face" showing that girl can be strong, and just because we got a break up, or experience something bad with our relationship will not stop us for doing anything else. Sunmi is able to pulled of the sexy side, but not to overly sensual, and classy, girl crush at the same time. There are times that a lot of K Pop artists are trying to look like a bad girl, but that doesn't apply to Sunmi that's what I like, she kept her artistry very professionally, cool, at the same time.
There are two other songs that I love from Sunmi's Warning, the first one is Black Pearl the sounds is almost giving you this jazzy feelings, and its chill, but from the voice of Sunmi I could tell that she is still giving the sasssy ness of her that I really like. I definitely try not to look for the real meaning in order to proof myself that you still able to love a song without understanding the meaning.
The second track that I love is Secret Tape, there are part of the lines where Sunmi talking into a telephone, or a recording, and there is a line saying "promise" in Korean, its a very short one, leaving it mysterious, and it really suited her. She worked with Frants for most of the songs for this album project. But definitely I can't wait for her next project, she's always exciting to watch. Frants worked with Wondergirls, G.Soul, Got7 in the past, and he built a strong relationship with Sunmi as well.